Search by field of expertise
List of french certified drone companies members of HOsiHO Drone Pilots Network and also offering film production services in France (aerial + ground shooting)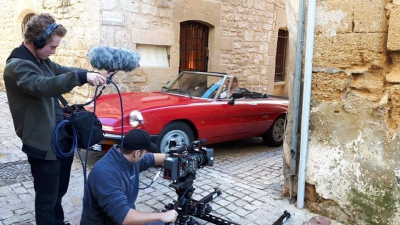 The production of films mixing aerial and ground images
Today, most films are made with different shooting techniques. Until now, aerial images required a large investment (renting a huge crane or helicopter). With the arrival of professional UAVs on the market, aerial shots have become more accessible from a financial point of view and the demand for films with mixed shots has increased.
What is a film with mixed ground/air shots?
As the name suggests, a mixed ground/air shot film contains an alternation of different sequences of ground shots with aerial shots. From an aesthetic point of view, this technique brings dynamism to the image. This type of shot is not only used in the audiovisual and cinema field, but also in videos related to architecture, construction or also industry.
What are the prerequisites to produce films mixing aerial and ground images?
To begin with, the production and direction of your film is a joint effort. In small structures, the teams are small and it is necessary to combine various skills: shooting with a classic camera, interview technique, shooting with a steadicam, handling a traveling cart, piloting a drone, video editing and sound mixing. For the technical part, there are specialized schools for training in video directing and editing. For the creative part, there are art and design schools. The realization of aerial photography with UAVs requires a theoretical training of 7 days and the obtaining of a practical exam from the General Directorate of Civil Aviation (DGAC).
What are the qualities expected of professionals?
Audiovisual production combining aerial and ground images requires rigor and creativity. It is often necessary to be versatile and master different skills in order to use the appropriate technique for the realization of a plan. Aerial photography obeys strict regulations that require administrative authorizations. It is therefore necessary to have a perfect knowledge of the legal framework of the profession.

---
Almost all the drone pilots of our network have an audiovisual background (see their references). All have a long experience in the footage and/or photography industry, and therefore have the needed qualities and skills to offer you the production, from A to Z, of your presentation film, your video-clip or your next video greeting card !
The network's operators and their creative teams will then take care about all the production steps of your next movie, no matter how complicated it is :
Conception, script writing and realization

Shooting: either by drone and on ground, with few options like timelapse, hyperlapse, crane, ...

Post-Production: Editing; Grading; X-effects; Text; Sound mixing, ...
The diverse experiences and backgrounds of each of our pilot-filmmaker is a great source of inspiration, which they will be happy to put into your aerial/ground film project. All our drone operators are declared to the DGAC (Direction Générale de l'Aviation Civile) with a unique ED identification numberand shown on their page. All are duly insured to provide aerial audiovisual shooting services with drone in France. (drone photography, aerial video, cinema and series).
---
All of them have been selected by the aerial image bank

for the high quality of their audiovisual services and their professionalism in terms of aerial imagery.
The connection with a drone pilot from the HOsiHO Drone Network is free of charge.
---
To learn more about French regulations concerning Unmanned Aerial Vehicles (UAV or Drone), please read our Regulation page.