HOsiHO Drone Pilots Network
Tarifs Reference rates for a drone filming & photography services

Every drones pilot member of the HOsiHO Drone Pilots Network agrees to apply the rates below
(in a range of plus or minus 10%)
Reference pricing for a drone shooting assignement in aerial filming or photography in France, without editing (excluding options, travel expenses, administrative costs)
Type of drone shooting
Type of drone et number of operators
Time on location
Tax-free rates
(from ; +/- 10%)
Audiovisual (photo/video)
Phantom 4 - Mavic 2 & 3 (one pilot)
Available Option with Mavic 3 Cine

: 5,1K in ProRes

1 hour (except Paris

area, tbd

)

350,00€
Audiovisual (photo/video)

Phantom 4 - Mavic 2 & 3 (one pilot)


Available Option with Mavic 3 Cine

: 5,1K in ProRes

4 hours (half-day)
550,00€
Audiovisual (photo/video)

Phantom 4 - Mavic 2 & 3 (one pilot)


Available Option with Mavic 3 Cine

: 5,1K in ProRes

1 day (8h + rest 1h)
750,00€
Audiovisual (photo/video)
Inspire 1 or 2 + Zenmuse X5/X5s camera (h264/265) and double-operator (pilot + cameraman)
Available Options on Inspire 2 : 6K with zenmuse X7 - ProRes - Cinema DNG Raw - ProRes Raw

1 hour (except Paris

area, tbd

)

600,00€
Audiovisual (photo/video)
Inspire 1 or 2 + Zenmuse X5/X5s camera (h264/265) and double-operator (pilot + cameraman)
Available Options on Inspire 2 : 6K with zenmuse X7 - ProRes - Cinema DNG Raw - ProRes Raw

4

hours

(half-day)
900,00€
Audiovisual (photo/video)
Inspire 1 or 2 + Zenmuse X5/X5s camera (h264/265) and double-operator (pilot + cameraman)
Available Options on Inspire 2 : 6K with zenmuse X7 - ProRes - Cinema DNG Raw - ProRes Raw
1 day (8h + rest 1h)
1300,00€
Important :
Each HOsiHO Drone Pilots Network member is free of its commercial and pricing policy

Many options are available, it could be added upon request, like: type of camera, specific focal lengths or recording codec (ProRes or Raw), etc ...

To find out more about the factors that influence the price of a drone service with our dronists, read our article.

You will directly order the shooting to the chosen drone company and will pay their related invoice

Specialized or additionnal services will be subject to a study case by the contacted drone operator, after analysis of your request. His offer is binding only on himself

The HOsiHO company does not act as an intermediary and as such does not charge any commission on any services provided by the network's members
To complete a drone shooting, all our memebers can offer you the video-editing of your footage, or even the entire conception of a short film, whether on the basis of aerial videos only or a combination of images captured also on ground, indoors on your premises or outdoors, depending on your needs. Indeed, all can provide additional shooting on the ground with dedicated cameras and stabilizers. Some are full-fledged audiovisual production companies and incorporate all the skills and talents to meet your new image needs to serve your corporate communication. Feel free to compare and view their achievements, on their page or on their website.
Other services offered by HOsiHO Drone Network operators: 360VR video, Construction site supervision by drone, Timelapse and aerial or ground hyperlapse, Classic photos panoramas or ultra-high resolution (giga-pixel) aerial panoramic photography, Thermography, Photogrammetry, Video post-production, Scouting locations in France by drone or ground, ...
Complete your drone shootings with our stock aerial videos available online through our image bank HOsiHO.com: wide choice of images of the world seen from the sky, with more than 34 000 photos and aerial footage shot by the 200 artists represented by the agency, from drone, helicopter or plane!
DroneFAQ about the costs & prices : Why a drone shooting is quite expensive ?

HOsiHO Drone Pilots Network : Most serious UAV french pilots, established over the last few years, seek to maintain balanced accounts in their annual accountancy.
This approach is reasonable and responsible but for this, they have to set a daily rate around 1300 € excl. taxes, this for a shooting by drone, manned by an experienced and talented team, composed of one pilot and one cameraman. This price includes a high-end camera with a set of prime lenses (Wide-angle to short-angle like a 45mm on the X5s), plenty of batteries to last a full day without charging, plus two or three control TV monitors.
This amount of money is generally divided into four different share:
a share goes to the pilot's wage

another to the cameraman wage

25% helps to finance the gears costs (bank loans or cash purchase)

and the last quarter covers the flat fees spent every monts to run the activity (office rent, insurance, marketing, website, accounting, etc...)
Not to mention that owning several drones and several cameras means a lot of money invested, often by very small l businesses and often thanks to a bank loan. As everyone know this kind of high-Tek material has a rapid obsolescence.
It means that between ten to fourty-thousands euros are invested every 2 to 3 years in most cases.
These short-term credits means high monthly payments. Barely reimbursed, one must go for another loan in order to buy new drones, new batteries, new remote-controllers, always more efficient, and always very appreciated by customers.
Other factors directly affecting the rates of the french drone companies that you might want to hire through our UAV Network : flying a drone is not something you can do all year round, everywhere. It really depends on the location and the forecast, so it is highly depending on good weather and beautiful nature with nice colors. In a word the season you can fly is very short, or lasts 6 to 8 months at the best.
This means you can only expect to have steady revenues during half to two-third of the year, meanwhile
expenses are every month of the year.
This creates an
imbalance that has to be compensate somewhere, ie the rates !
Among the expenses that a drone pilot has are the maintenance of the flying or not flying gears. The most expensive is the batteries replacement (100-200 € / each) because it doesn

'

t last forever, and are quite expensive consumables whose life is last between 50 to 100 flights at most.
The risks of a loss or a crash/accident are far from being negligible: insurance costs are substantial , count another 1000 to 2500 € per year.
Having a certified drone pilot means also that he had to comply with the regulations and that requires a training (3000 €) before being able to pass the exams.
Do not under estimate the time to research each location, check what are the needed permits and then contact the authorities: this could range from one hour to a day of paperwork. This time is usually not charged, but it is time spent for you.
Other thing to take under consideration is how great is the experience of pilots and cameraman : their accuracy

their inspiration, their know-how, their knowledge of the area, as well as their enthusiasm are a true added value because it means better images shot without being stressed-out.
In our humble opinion
, you must ask yourself this simple question:
---
'Can I afford to risk missing this shoot by choosing a cheaper drone company?'
---
Because as you might suspect it, cheaper often leads to less experience, less reliability, maybe less talent and enthusiasm.
And how to evaluate the added value of precision, creativity, responsiveness, strength of proposal?
The answer belongs to you and you know from experience, that anything has a price !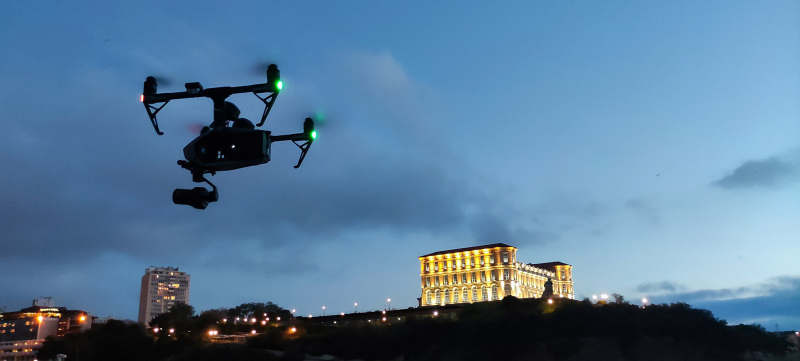 Hire a professional for drone shooting services
Whether it is for photographs or videos, the shots by drone very often give an impeccable result. They have appeared quite recently and have been unanimously approved by the audience for their exceptional rendering. They can be used to film inaccessible places, take aerial views or even follow moving subjects - all of which were much more difficult or impossible before.
However, it is important to find a trained professional telepilot who will guarantee you a quality work. This way, you will avoid any unpleasant surprises and will be able to enjoy the best possible results.
Breathtaking shots
Professional drones are often equipped with high definition 4K or even 6K or 8K cameras, and are able to give images as close to reality as possible. These footage will also be very pleasant to watch on the recent high definition screens which are also more and more widespread. It is therefore essential to choose a partner who will be properly equipped with the right equipment for professional shooting. This way, there is no doubt about the final result and the price will be fair.
Different possibilities for different situations
Often it is difficult to choose the most suitable option for the job because there are so many possibilities to make beautiful pictures. The option of aerial filming can be practiced almost everywhere and offers an almost infinite range of possibilities.
Indeed, the service by drone can be adapted to a multitude of circumstances, for example:
Making a documentary,

Filming a building and its construction,

Create an image bank,

Tape an official event (wedding, baptism).
For all these requests, the drone will give extraordinary photographs, quite different and complementary to the shots taken on the ground, and that is its interest.
Specialized pilots
A drone remains a difficult tool to master, and it is also a regulated activity, especially in case of overflight near houses and in urban areas. It is therefore necessary to follow different training courses and to do many hours of flight before being able to claim to fly it correctly and to realize quality aerial views. That's why you should never give up on hiring a qualified UAV pilot - the result will only be better with dynamic views that will be out of the ordinary!
Don't hesitate to request a quote for a drone service and receive a price calculated as accurately as possible, after studying your needs, regulatory requirements and the geographical location of the mission!