HOsiHO Drone Network
HOsiHO's pilots and drone operators network in France
Your Drone Pilot in Marseille
It is no secret that Marseille, prefecture of the Bouches-du-Rhône department, is a surprising and exuberant city, with a good character. drenched, like its 862,000 inhabitants, who themselves like to find it, in turn, beautiful or ugly, loved or detested, it never leaves anyone indifferent!
This town in the South-East of France, whose sea front with the Mediterranean sea, stretches over 30 km, from the creeks (the calanques) to Estaque, passing by its famous Old Port and its dozens of beaches.
Certainly, Marseille rhymes with Soleil (sun), and the latter even has a name there: the Cagnard. He hits hard, often and for a long time.
However, in this dynamic and atypical city, there is no shortage of sites, or angles, to satisfy lovers of beautiful aerial images.
Our member - Drone-Pictures - who has lived there for over 25 years, knows this.
It does not ask for anything better than to make you discover it from every angle, by drone or on the ground, on photos or on 4K footage!
What if you start by watching their second aerial opus called Sublime Marseille ? An appetizer offered by the first established drone operator of the city, namely since 2011!
April 2020 - CLIP SPECIAL COVID-19 OUTBREAK IN MARSEILLES
Drone-Pictures released this clip during the Covid-19 outbreak lockdown of Marseille city, as a tribute to the people who, every day, are on the front line,
taking risks to take care of us and keep this city running, which, even when idling, is still beautiful in many ways.
When the first corporate company in the city uses the services of the first drone operator installed in Marseille, this gives as a result this video, shot in june 2017 on the occasion of the launch of the new visual of the shipowner CMA-CGM, displayed on the facade of its famous skycraper Tower, on the Port Autonome of Marseille side! (find out more about this drone shooting)
Photographers, drone pilots and aerial videographers in Marseille
The local roots of our drone operators, moreover and above all, all audiovisual and photography professionals, is not an empty word for our network. Knowledge of the land is essential for taking pictures, especially when it is aerial.
A cameraman or drone remote pilot from Paris, or Metz, Rennes, Bordeaux, etc., will not know where and when to position themselves to see in an original way the portion of the city of Marseille that will interest you. He will also not know what time the light is there to his best advantage.
Drone-Pictures has strolled enough through the streets, boulevard and coves of the Marseille city, to know immediately where to go, who to ask and what to recommend!
All combined with their talent, their enthusiasm and their thirst to share and discover, we can say in advance that you will be satisfied, and that you will ask for more!
Marseille and its 111 villages, or districts, have no secrets for these addicts of aerial video by drone, for these aerial photographers - having known the helicopter and the ulm long before the drone - and for these experienced cameramen , all in love with their city, their profession, and of course the inhabitants of the city, that goes without saying!
They will lead you with your eyes closed in the alleys of Panier, at the foot of Accoules, at the bottom of the valley of Auffes, at the very top of the Réformés, at the bottom of the calanque of Callelongue, on the heights of the Good Mother or on the hill du Redon, or behind Super-Rouvière, in front of the Digue du large, or on the quays of l'Estaque, Goudes and Frioul!
They will show you their most beautiful spots near Château d'If, Pointe-Rouge, Corbières, Saint-Barnabé, Vaufrèges or Cours Estienne-d'Orves, Palais Longchamps, and even the GPMM (Grand Port Maritime de Marseille) !
With them, the wandering is limitless, like their enthusiasm and their creativity.
It's up to you to close your eyes, and let yourself be sublimated by this city, and this sensational team!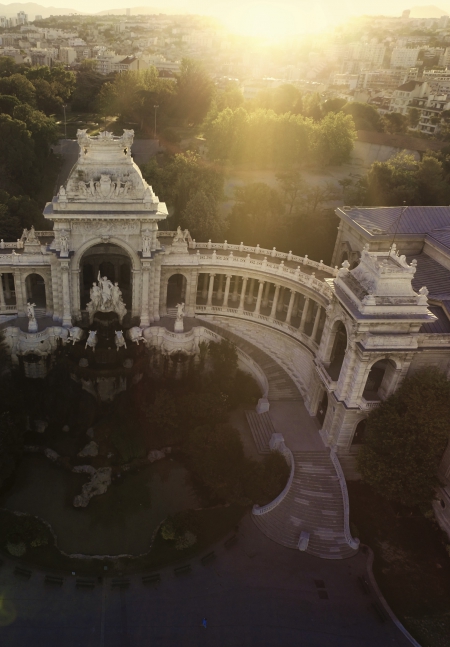 Aerial photography by drone in Marseille - The Longchamps Palace © Drone-Pictures
Drone-Pictures represent HOsiHO Drone Network in Marseille city and the surroundings !
Let us be clear from the start: the creed and DNA of the company is above all the C R E A T I V I T Y.
Certainly "assisted by drone", as the pitch that accompanies the logo of these Marseille adopters reminds us.
But, what is not at all part of their practices is to be the "lowest bidder" in terms of prices: "We are not the cheapest and we assume it, the quality, the experience, the reliability, it does not get worse"!
Drone-Pictures therefore claims it, loud and clear, while remaining in the recommended price list for drone services from the HOsiHO network. Their absolute priority is beautiful work, well done, pampered, as close as possible to the client's needs, without frills but always with the right necessary to make a film or a performance at the Top level. Just look at their films, their customer references to understand why the pioneering drone company in the city is still there, eight years later, and with a very good record.
So, yes, it is very easy to find cheaper in the quirielle of the innumerable "dronists" or "droneurs" who have flourished in recent years in the second commune of France. A healthy competition that allows customers to have a choice, and for our member to question themselves and push their level of demand, their level of excellence even further, the hallmark of our national network of operators. French drone.
An atypical business, in an atypical city, could only come out of the box and, with the help of passion, amass a considerable stock of drone videos and photos of the city of Marseille and its 111 districts. All of these aerial views can be found on sale on HOsiHO, our our aerial image bank,
And if you want to be put in touch with these professionals, whether for a tailor-made study of technical or artistic services, just click on the button below, or directly call them by phone on: +33-646194926 (they do speak english very fluently) to discuss your filming or shooting project by drone, in Marseille and its surroundings, between Avignon and Menton!