HOsiHO Drone Pilots Network
Overview of the DJI Mavic 3 Cine drone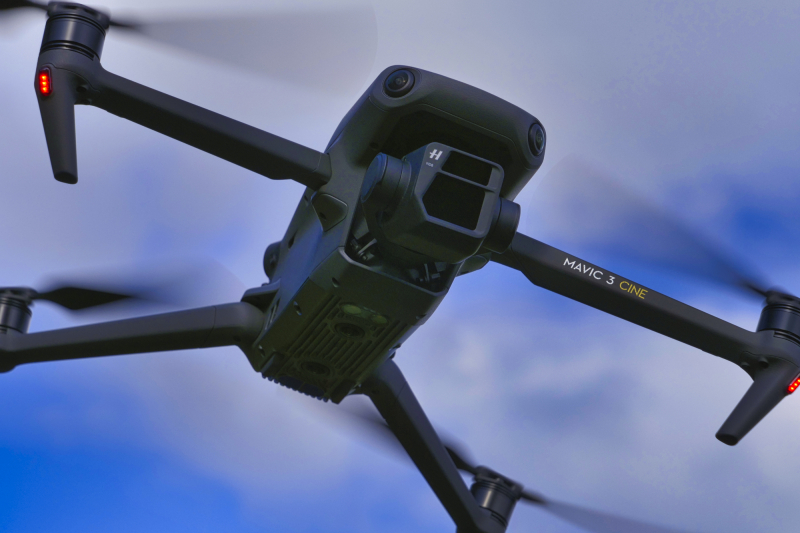 Drone Mavic 3 Cine in flight

November 2021: finally, the Mavic 3 Cine is released!
It is one of the references of drones designed for professionals: the DJI Mavic 3 Cine. Three years after the release of the Mavic 2 Pro, DJI is back with a new model, revised and, above all, with many new features. However, one thing remains the same, and this should please the brand's loyal fans: the sensors and lenses are still signed by Hasselblad, the famous Swedish manufacturer. In short, we present the DJI Mavic 3 Cine that many drone operators in our network already offer in aerial audiovisual drone services.
What is the DJI Mavic 3 Cine like?
First of all, it is important to know that the DJI Mavic 3 is available in two versions. The one called Cine, which we will discover in this article, and a standard one. What this Cine version brings is an internal storage of 1Tb (whereas the standard version is only 8Gb!), and especially the possibility to record using the codec that Apple users will recognize: Apple ProRes 422HQ!
With a maximum battery life of 46 minutes, the DJI Mavic 3 Cine will be able to capture high quality videos thanks to its L2D-20C aerial camera and its 20 megapixel 4/3" CMOS sensor as well as a 24mm lens with an f/2.8 to f/11 aperture. Even better, the camera has a telephoto module with a 12 megapixel ½" sensor and a 162mm lens with a constant aperture of f/4.4. Ideal for inspections or for productions limited to HD, because it must be admitted that this 162mm does not have the quality that a professional has the right to expect in 4k, the image being pixelated.
As for the maximum zoom, which reaches x28, it allows you to discover surrounding details, even at a fairly high altitude. It can be useful for technical applications but certainly not for artistic use, given its low quality.
But the biggest innovation that interests us as aerial filmmakers is the greater dynamic range supported by the m4/3 sensor (12.8 f-stops!), the ability to shoot at night at 800iso, or even 1600 iso, while keeping the image low noise, the wide-angle focal length of 24mm, or even 16mm with an optional lens, and the 50fps frame rate available in 4k and even 5.1k, whether in h264/265 or in ProRes!
Finally, let's not forget a very practical option: the new omnidirectional obstacle detection. This means that you can film with complete peace of mind without fear of hitting an obstacle.
In short, the DJI Mavic 3 Cine is clearly dedicated to professionals. Its high-end performance makes it an ideal and versatile aircraft for a professional drone pilot, but there are still many features and improvements expected and to come - some in January 2022 - for this little gem to be fully exploitable in drone shooting (see on the blog, the review article of our telepilots who alerted the manufacturer of their expectations).


Which bundle for the DJI Mavic 3 ?
The DJI Mavic 3 comes with a basic price tag of €2,099 from the brand. However, if you want to go for the Cine, you'll have to pay €4,799 by choosing the Cine Premium package. With this pack, you get a pretty complete package:
The DJI Mavic 3 Cine

The DJI RC Pro (and its high-brightness screen)

A set of three smart flight batteries

A set of 6 pairs of propellers

A 65 watt portable charger with charging hub for three DJI Mavic 3 batteries

A convertible carry bag

A high-performance cable (exclusive to the Cine) for copying the 1T° Ssd
Although the price of the Cine is much higher than the DJI Mavic 3, the pack is very complete for a professional, even if you need to add some batteries to last a full day without recharging in the field, propeller guards, the 16mm lens, etc...



How does the DJI Mavic 3 Cine compare to the Mavic 2 Pro?




The first thing you notice with the Mavic 3 Cine compared to the Mavic 2 Pro is its lighter weight: yes, it is possible to pack more technology into a lighter package (899g vs. 907g)... Despite a much heavier battery for the DJI Mavic 3 Cine!
That's performance.
Of course, it does not stop there, we will also note the maximum range of 15 km, against 10 previously, all with a video stream of 1080p in 60 IPS. As for autonomy, the Mavic 2 Pro could only fly for 31 minutes, whereas, as we said, the Mavic 3 Cine can last 46 minutes, in theory, because in practice, and as a safety measure to avoid completely draining the battery, flights will be limited to 35 minutes maximum.
Finally, without going into too much detail, we can say that the Mavic 3 Cine has a better camera, with a sensor that is twice as large as the 1 inch of the M2p, as well as a more efficient obstacle detection system.
To sum up, the Mavic 2 Pro is still in the running, with features that the M3C does not yet offer: Waypoints, accurate Tripod Mode, Hdmi output via the CrystalSky screen for live streaming of the image only, without flight indications, as well as tight focus shooting without loss of quality (in HQ, equivalent to a 40mm in 4k25p)
In short, we are waiting for future updates to definitively abandon the use of the good old Mavic 2 pro!



The Pros and Cons of the DJI Mavic 3 Cine for a professional drone pilot
If you are a professional drone pilot, you are certainly making the right choice to opt for the DJI Mavic 3 Cine. This one has many advantages:
Slim and easy to carry design

Robust design

A very powerful camera (with two sensors and different focal lengths from 16 to 162mm)

Record battery life for this type of equipment (enough to work for longer)

Interesting flight aids (such as obstacle detection)

Its powerful zoom (for technical inspections)

Choice of ProRes codec, framerate from 24 to 60 fps, 5.1K

120 fps slow motion mode in 4K

high dynamic range and therefore greatly improved exposure latitude

qualitative shooting at night or in low light
In short, we could talk for hours about the advantages of using a DJI Mavic 3 Cine for a professional drone pilot, without however concealing the crucial shortcomings that we hope to see in the near future!
Yes, this drone is not without its flaws. The first is its high price, which is difficult to justify at this stage: not all pilots will be able to pay nearly €5,000 for this model.
Also, you'll have to wait until January 2022 to take advantage of all the smart features (ActiveTrack 5.0, Hyperlapse, Photo Panorama, QuickTransfer, MasterShots, etc...).
Finally, it's a shame to have some parts of the drone a bit neglected, like the rear which is made of black plastic and seems to be easily scratched...
Sincerely, even if, to date, the Mavic 3 Cine is still in beta version, this drone is of an incredible quality for a pro and it needs little to become the essential tool and reference for all aerial audiovisual productions by drone!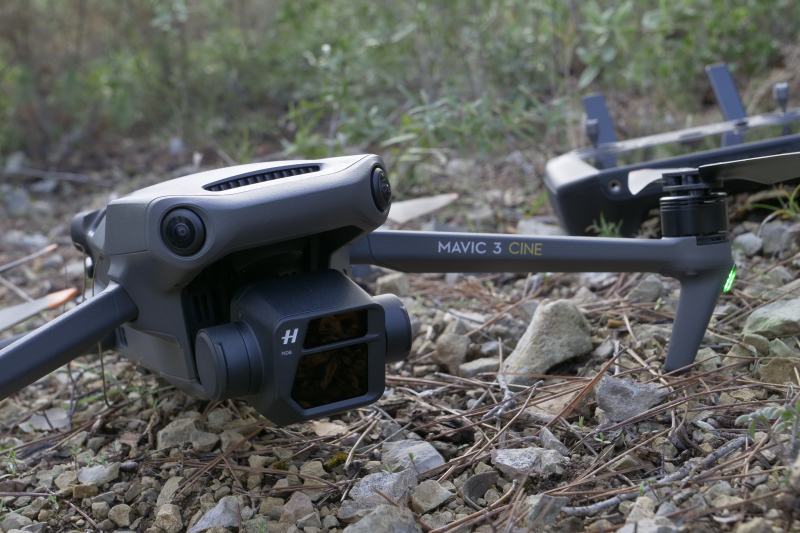 REQUEST A MAVIC 3 CINE AERIAL FILMING FROM ONE OF OUR TALENTED DRONE OPERATORS