A film for five emblematic letters: Mucem!
Produced by our drone operator in South of France region, Drone-Pictures, for the french company OXY-Signaletique, specializing in the manufacture and installation of signage products, digital printing and screen printing.
This high-flying shooting had its prestigious location: the King René Tower at Fort Saint-Jean in the Old Port of Marseille, which hosts the famous Museum of European and Mediterranean Civilizations designed by the architect Rudy Ricciotti.
It was the second time that Drone-Pictures had crossed OXY in, pretty much, the same conditions!
Indeed, the first time it was at the foot of another tower, much higher and much more modern, that of the CMA-CGM, during the installation of the new visual and the new slogan of the maritime group, on which we will return shortly.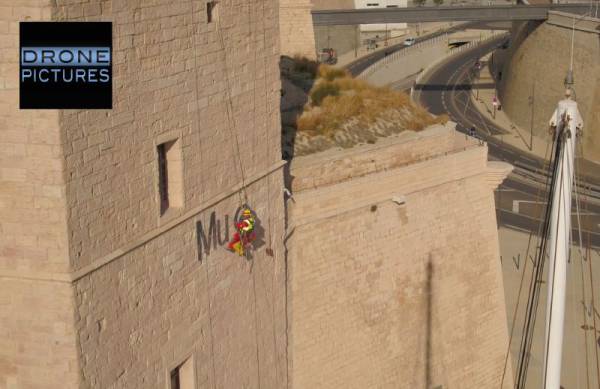 This time OXY wanted a film retracing this meticulous hanging and binding on a historic monument in the city center. An acrobatic clash, letter by letter, by a cordist, suspended in the air for 5 hours.
The use of a drone with two operators (ie a tele-pilot and a cameraman) has taken on all its meaning here and allowed capturing images as close as possible to this work at height. This is where this aircraft excels and allows, in this, to achieve different views of what it was possible to do before its democratization.
The world of work at height has become very accessible to men of images, without unnecessary risk taking, since this flying camera can bring back to the ground spectacular videos with original angles, the drone can easily move in the air and to place oneself at the discretion of the operators' creativity, experienced in this exercise of precision and imagination.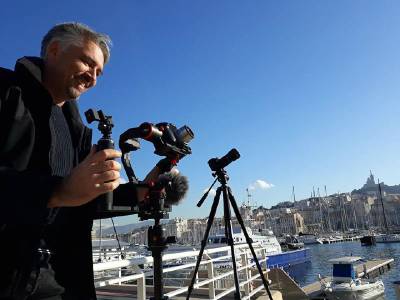 Drone-Pictures, for this audiovisual production, has also created and used in its editing, altitude images from the drone but also those from a stabilized camera on the ground. An essential counterpoint in the audiovisual narration.
And to mark the passage of time, a timelapse (intervalometer or accelerated film), made in parallel during the entire work, is squeezed in small doses in the two-minute clip. A way to change angle, rhythm, and show in seconds what happened in several hours!
A short duration so as not to lose the volatile audience of social networks and the internet.
For this video shooting, the following means have been implemented by the operator Drone-Pictures, installed in Marseille since 2011:
In the air: the DJI Inspire 2 homologated double operator with a zenmuse X5s camera and Zuiko lenses with the following focal lengths: 12/25 / 45mm

Ground: a GH4 video / photo box on tripod for timelapses and a GH4 on a brushless stabilizer for ground views

In human resources, three professional operators were needed: a cameraman for the images on the ground, a remote pilot in pairs with the director who ensured the framing of the aerial images and the choice of angles and focal lengths.

One-day production and post-production in two days, in December 2017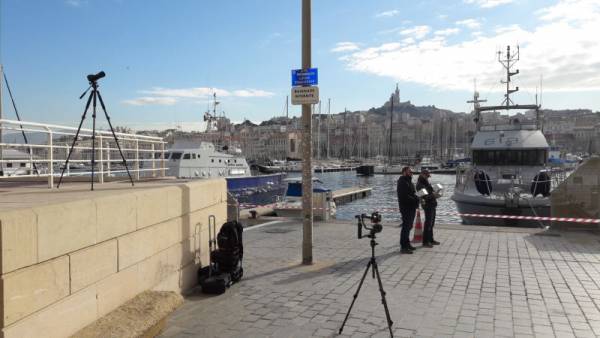 Drone-Pictures operates for the HOsiHO Drone Network in South of France, especially in Provence and French Riviera:
84 - Vaucluse
83 - Var
13 - Bouches-du-Rhône
06 - Alpes-Maritimes
05 - Hautes-Alpes
04 - Alpes-de-Haute-Provence