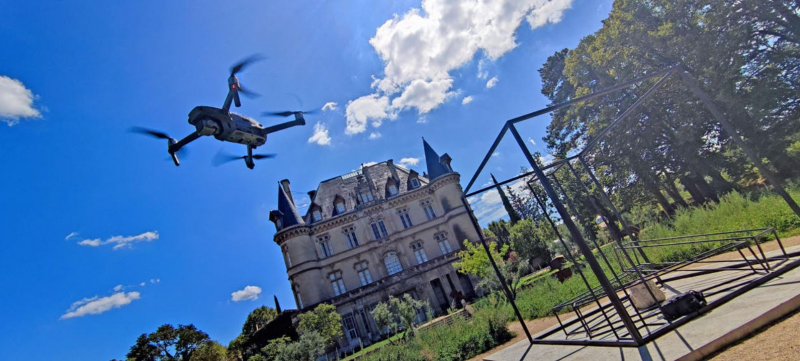 What does the French law say about drone piloting?
Since 2012, the use of a drone is regulated by the French legislation. This law applies to those who want to fly over specific areas or take pictures for professional purposes. Indeed, it is your duty to contact a professional to pilot your drone when you want to film a place for commercial purposes. To distinguish a specialist, he must be declared to the D.G.A.C., have an updated MAP (Manual of Particular Activities) or better yet a Manex in accordance with the current European harmonization, a diploma of
professional drone pilot
(Attestation d'Aptitude aux Fonctions de Télépilote), as well as a
professional insurance in Civil Liability
. In addition, the drone operator is registered in the trade register and therefore has a
SIRET number
.
The reasons to hire a professional drone pilot
You have a project to take an aerial photo or an aerial video, you need to contact a professional UAV pilot to have an excellent image quality, original and careful framing, smooth and appropriate movements. To obtain visual renderings that meet your expectations, you must trust an expert. As a specialist, the pilot provides you with advice to have a quality aerial photo. You want to take an aerial video to make an advertisement? The help of a professional drone pilot allows you to concretize your project. He starts by studying the various angles with creativity. Another reason to trust a local telepilot is that he knows his area and the terrain perfectly. He is informed about the different restricted areas of the city or region to be flown over. The expert will have no difficulty in obtaining authorizations for the use of a drone since he is known by the various aviation authorities and managers of the nearby airspace.
What are the services of a professional drone pilot?
Since the professional pilot works on behalf of a client, he must be attentive to each of the client's requirements. The pilot must carry out a feasibility study of the project by using his know-how and by proposing alternatives in conformity with the drone rules in force because all is not allowed with a drone, and it is imperative to remain within the strict legal framework, guaranteeing serenity for the future exploitation of the images by the customer. The drone pilot then operates the overflight of a place to have a perfect framing and a fluidity of the images. The advantage of contacting a professional pilot is that he can either deliver images or raw videos, without processing or retouching, but also take care of the complete realization and video editing of a film. The expert, well surrounded by audiovisual professionals, can perfectly take care of it with the addition of special effects, music, texts or animations in the contents. This is a service that complements the taking of photos and aerial videos by drone.