Flying a drone is a pleasant activity, even for the professional. However, it is subject to strict rules. The legislation in this field is French and European. Aerial photography is regulated. They meet several criteria.
The regulations differ according to the weight of the drone and the places of overflight.
Some areas are forbidden, whatever the weight of the drone. One of the fundamental principles is the respect of privacy.
Since 2021, any drone weighing more than 250 grams must be declared to the Direction General of Civil Aviation (french civil aviation authority). Pilots, including for leisure uses, must undergo training to fly drones weighing more than 900 grams.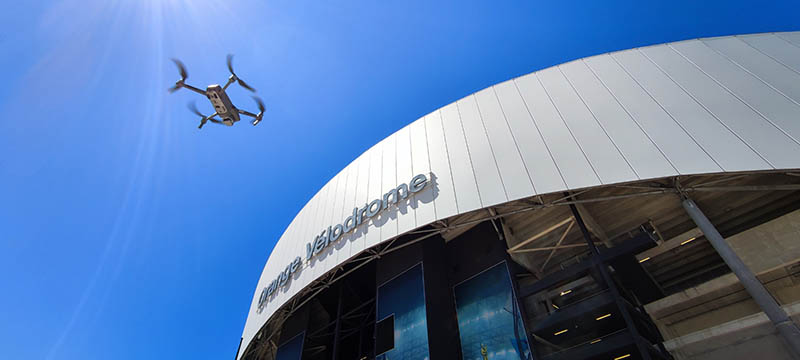 It is, for example, prohibited to fly near sensitive areas.
Military and nuclear sites, prisons, some soccer stadiums or historical monuments are forbidden. They will require special authorizations and sometimes the release of the flight area directly by the manufacturer, this only in view of the justifications provided.
The same applies to national parks and nature reserves.
Flying is also - in principle - forbidden in the vicinity of airports and airfields.
For the safety of everyone, it is not possible to fly a drone near people or vehicles. A zone of exclusion of the thirds of a perimeter of 10 to 30 meters is in this case required.

Piloting zones are defined by the French administration. The Geoportail website indicates the authorized zones. Professionals prefer to use other sites such as Clearance or Mach7drone, much more precise in terms of limits and permissions. The flight altitude is limited to 120 meters in Europe, uniformly.
It is lower near sensitive sites, such as airports. During the hours of activation, the authorized height is less than 50 meters.

The drone must remain within the pilot's field of vision (100 or 200m depending on the scenario). For aerial photography and filming, you must obviously respect the authorized flight zones. It is important to respect the privacy of everyone. It is forbidden to publish photographs or videos of individuals who can be recognized without their agreement. This also applies to private property.
Any offender is subject to legal proceedings and dissuasive sanctions. A violation of privacy is punishable by up to one year in prison and a fine of up to 45,000 euros. The law is strict with misbehavior!
All the professional pilots of the HOsiHO Drone Network are of course respectful of the laws and regulations concerning the use of drones. Do not hesitate to use their services for your videos and aerial photos by drone, because it is the guarantee to enjoy serenely the images they will produce!