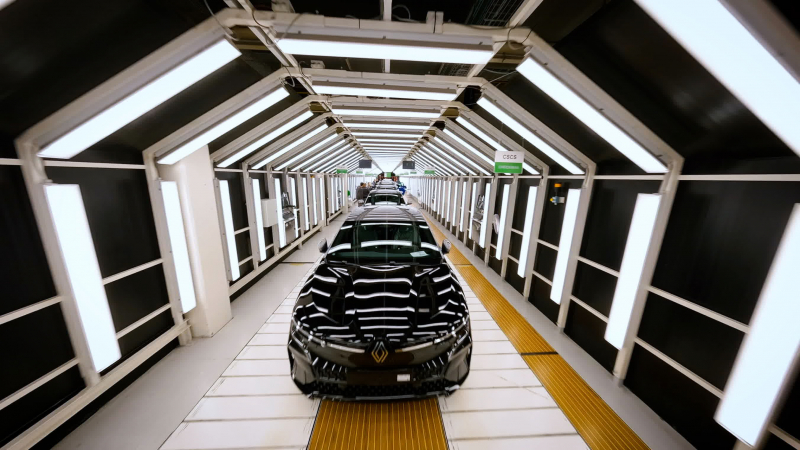 Different assembly areas were visited, such as this paint verification tunnel.


Rarely vehicle assembly lines have been filmed so closely. It is indeed with the help of a mini drone FPV (First Person View) that we flew in the heart of the factories of Douai, Maubeuge and the megafactory of Cléon, at the request of Renault, to carry out a new kind of immersive visit.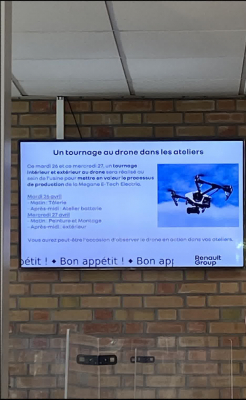 The staff was warned in advance to avoid any surprise effect during the flights.

From the intimidating ultra-fast stamping press to the paint booths via the cataphoresis bath or the welding robots, nothing escaped the camera of this device which followed all the stages of the assembly of the Mégane E-Tech.
Here is the video :
Pilot of the FPV drone, Pablo Sotes, a forerunner in the discipline, completed approximately 200 flights in 3 days of filming without deploring any breakage despite an industrial device in normal operation: "We had a very warm welcome, the site managers and the staff totally trusted me, I was surprised... In particular, I had the right to go into the painting room, which had never been done. I never did so many crossings of vehicles but it is the brooms of the welding arms all working at the same time that impressed me the most… They were coming from all sides and ensuring the framing while avoiding them was quite epic ! »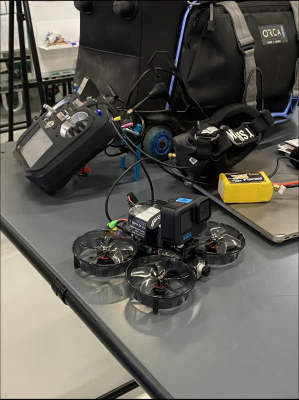 The drone used: a 3-inch cinewhoop equipped with a GoPro 10 camera
whose images are stabilized in post-production.
The sequences required perfect synchronization between the movements of the drone and those of the machines or vehicles being assembled. Impossible of course to stop or modify the production in order to facilitate this work.
AIRbuzz would like to thank Renault Group and in particular Frédéric Favre for the trust placed in us and for this very rare opportunity to work in ultra-modern production sites. Grouped together within ElectriCity, the Douai, Maubeuge and Ruitz factories, supported by the Cléon site which notably supplies the engines for the new Mégane E-TECH, bring together 5,000 employees and aim to become the production unit for electric vehicles. the most competitive and most successful in Europe.
Launched in 2014, AIRbuzz is specialized in the production of aerial images for advertising, television and feature movies. Our drones had the opportunity to film, in particular, the Paris Air Show, the city of Paris during the Covid Lock down, the Elysée Palace and more recently the renovation works of Notre-Dame de Paris.
More informations on:http://www.air-buzz.com/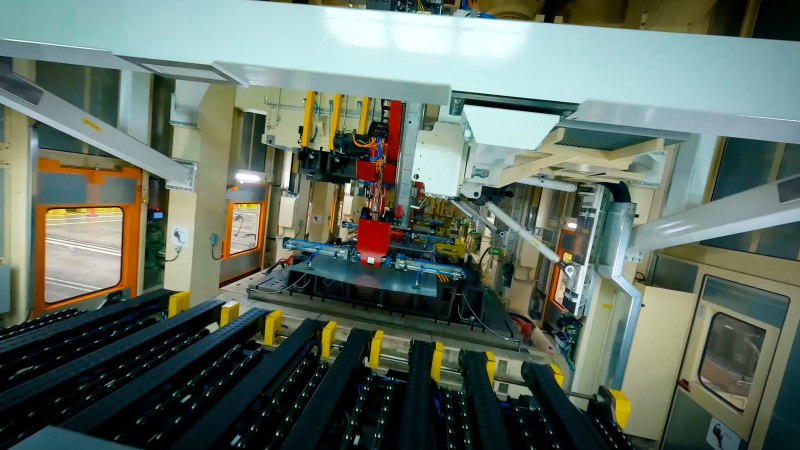 The bodywork press at the Maubeuge plant. One of the largest and fastest in the world.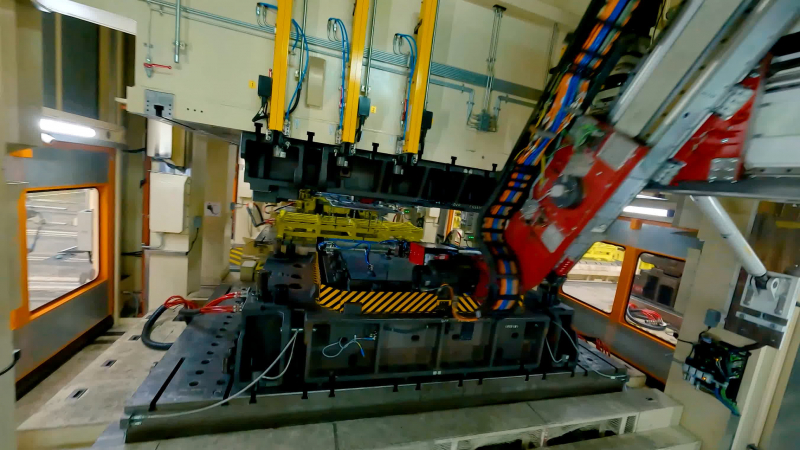 The entrance to the press offered very little space for the drone to squeeze through.