Search by field of expertise
List of french certified drone pilots members of

HOsiHO Drone Network

proposing real estate and construction site supervision shootings by drone, in France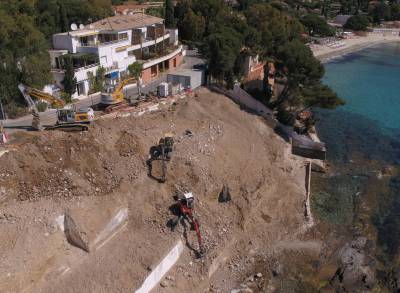 The members of our network offer a whole series of aerial and ground services around architecture, real estate and construction. Their aerial means, coupled with ground-based means, make it possible to respond to various requests, from the architecture firm to the private individual, through the big construction corporate or local authorities.



Site monitoring: with photo and/or video, with or without timelapses on the ground or in the air

Presentation of projects to a competition: insertion of a 3D rendering on aerial images

Commercialization of the project: 90 °, 180 ° or 360 ° panoramas on each floor of the future building

Impact study of the project in relation to the existing environment

Completed programs, for archives: photos and videos of real estate development

Production of a short film retracing the life of the real estate project: from the demolition of the existing to the inauguration
Use a drone to monitor the construction site
More and more companies specializing in construction or real estate development are using video and phthography made with UAVs as part of a site monitoring. In addition to monitoring the progress of the work, UAV photography provides very useful information.
What is the purpose of a UAV on a construction site?
A UAV is not just an unmanned aerial vehicle used to take aerial images of a site. It's also an incredible measuring device that will collect information for data analysis. In fact, UAV site monitoring involves taking pictures to get an overview of the work in real time. The UAV is also very useful for taking measurements (dimensions, heat) that will be analyzed as part of the quality control of construction sites. This helps to avoid errors and faults and to be more efficient. For this reason, companies involved in construction, public works, real estate development or urban planning do not hesitate to devote part of the construction budget to UAV site monitoring.
Who can be called upon for drone site monitoring?
In this field, it is essential to call on a professional registered with the DGAC (Directorate General of Civil Aviation). On the one hand, for reasons of safety and authorization to fly in French airspace. Indeed, monitoring a large-scale project may require a UAV plan to be produced using blind piloting, an activity that is not authorized for all pilots or UAVs, as it will be necessary to ensure that they are qualified for the S2 scenario. Then, we call upon specialized pilots to benefit from shots taken with professional equipment equipped to achieve excellent quality shots (360 ° video, panoramic photography, 4K video, timelapses, ...). Finally, the professional pilots specialized in shooting for site monitoring also have technical knowledge that allows them to perfectly meet the needs of customers in the construction sector.



All our drone operators are declared to the DGAC (Direction Générale de l'Aviation Civile) with a unique ED & UAS FRA identification numberand shown on their page. All are duly insured to provide aerial audiovisual shooting services with drone in France (drone photography, aerial video, cinema and series).
---
All of them have been selected by the aerial image bank

for the high quality of their audiovisual services and their professionalism in terms of aerial imagery.
The connection with a drone pilot from the HOsiHO Drone Network is free of charge.
---
To learn more about French regulations concerning Unmanned Aerial Vehicles (UAV or Drone), please read our Regulation page.