Aerial images of the forbidden parades on May 1st, 2020
A special operation by the french HOsiHO Drone Network
Video excerpts from the operation Forbidden Parades of May 1st, 2020, conducted by 11 UAV pilots members of the HOsiHO Drone Network, in eleven French cities.
---
On May 1st, an exceptional system was set up in eleven major cities, by the HOsiHO Drone Network France, which was able to capture images that will remain historic: that of a confined May Day where processions were banned because of the worldwide pandemic caused by Covid-19.
These aerial videos by drone of 11 cities, are already available in stock-shots via our aerial image bank HOsiHO.com (search Labor Day 2020), here is the complete list:
Marseille, Nantes, Montpellier, Strasbourg, Bordeaux, Lille, Limoges, Perpignan, Caen, La Rochelle, Fort-de-France (the cities of Paris and Lyon could not be overflown, Paris for lack of prefectoral authorization, Lyon, for meteorological reasons)
For the UAV production companies, members of our group of professional UAV operators, the fact that the large French cities of Métropole and Martinique could not see the usual parades on the morning of May 1st, 2020, had an undeniable historical meaning, and it was more than obvious that everyone had to immortalize the moment by flying over the precise sites of the passage of the demonstrators gathered by the unions, in previous years, that is to say, the departure and arrival points, as well as on the route.
Thus, each of the 14 drone pilots of the network filed their request for overflight with their Prefecture, as early as April 20. 2 telepilots were to position themselves in Paris, between République and Bastille, but the Paris Prefecture did not respond to their joint requests. So AIRbuzz and DcomDrone, were not allowed to fly drones in the french capital. This is regrettable, to say the least, but it highlights the fact that a request to fly over on a given date, at a given place, anywhere in France, may not lead to an agreement. It is therefore always better to allow a fairly long period of time, and an alternative, if the event is important.
For Lyon city, the cause of the impediment was meteorological, with stormy conditions and a Météo-France alert.
So only 11 French cities saw drones flying over the almost deserted places and streets, traditionally surveyed by a compact crowd every May 1st.
From 1 p.m., the aerial images by drones were downloaded by each author-telepilot, then retrieved in central control by HOsiHO, whose task was to coordinate the whole operation, to edit the images and to immediately distribute them to the media who had shown interest in using such images.
In fact, in addition to their final destination in the image bank, an end-to-end was made available to the press and media from 5:30 pm, for immediate distribution the same day and the following day.
Thus, several media were able to broadcast part of the images on the evening of May 1st, such as the M6 TV News at 7:45pm, and RT TV at 7pm, as well as the sites of France Bleu, which relayed the Caen and Bordeaux images, and many other press organs.
Our images also benefited from worldwide distribution through the Associated Press news agency, which was able to reach its 1,500 subscribers around the world.
This shows that the HOsiHO network can mobilize anywhere in France on a national event, by deploying and coordinating dozens of professional UAV operators on a specific event, then put online in a few hours only, all the original rushes via its image bank, or any other third party server, and provide in the same time a summary to the audiovisual media, to the written press, to internet blogs, or to any entity or customer, wherever it is in the world.
The total price for a grlobal drone service of this type is less than 20,000 euros, all inclusive, excluding image licence rights (on estimate).
Part of this unpublished background on Covid-19 is also available on INA's professional distribution platform (inamediapro).
---
Here are screenshots of the views of each city flown over by the drones of our eleven telepilots on May 1st between 10am and 1pm: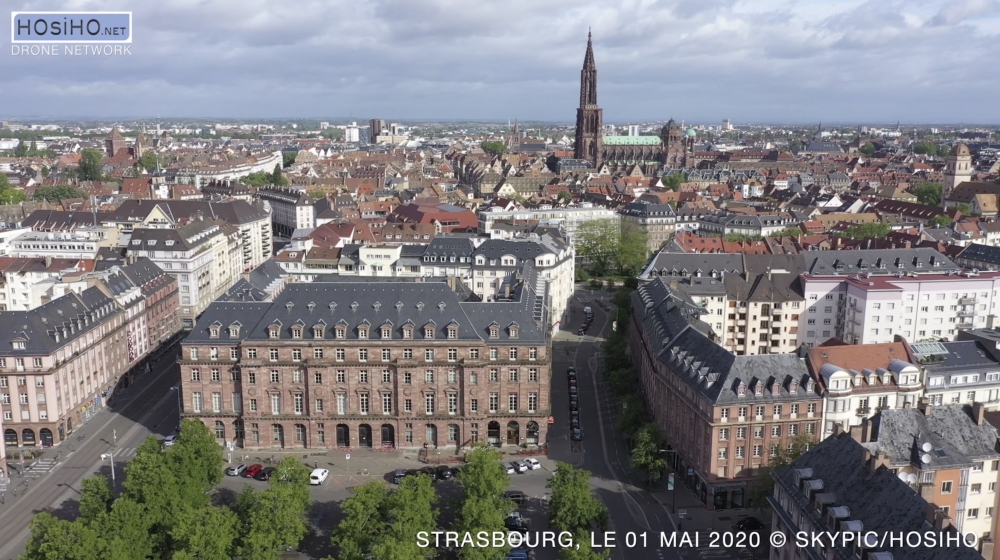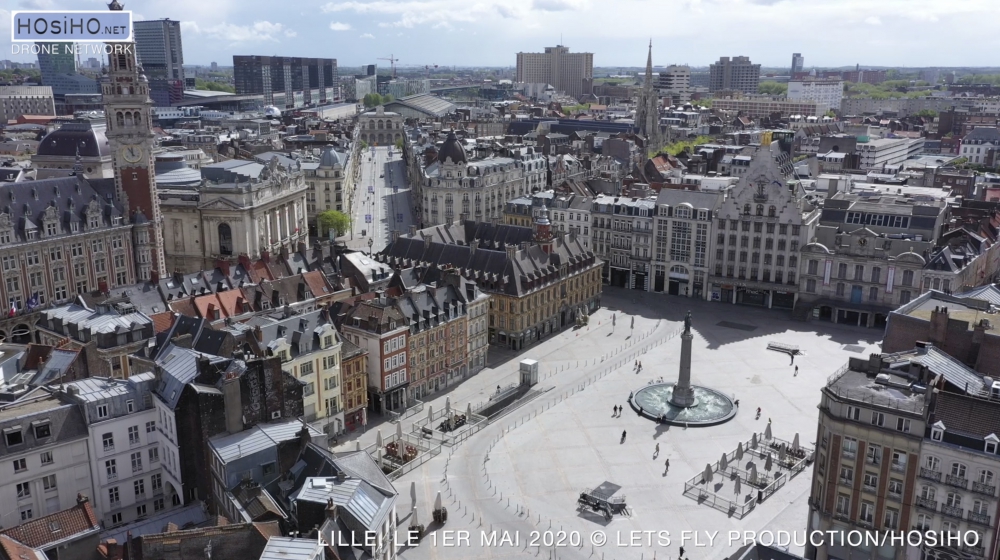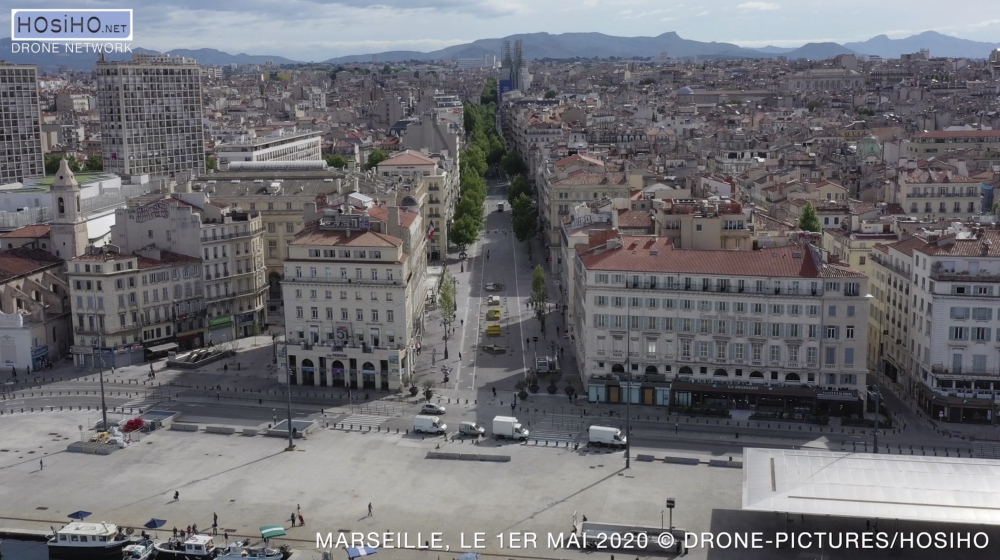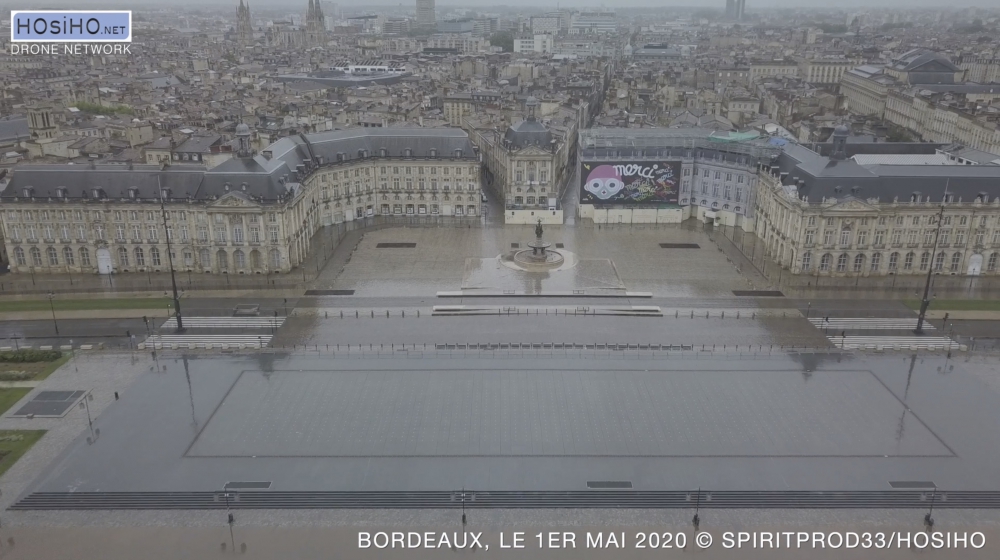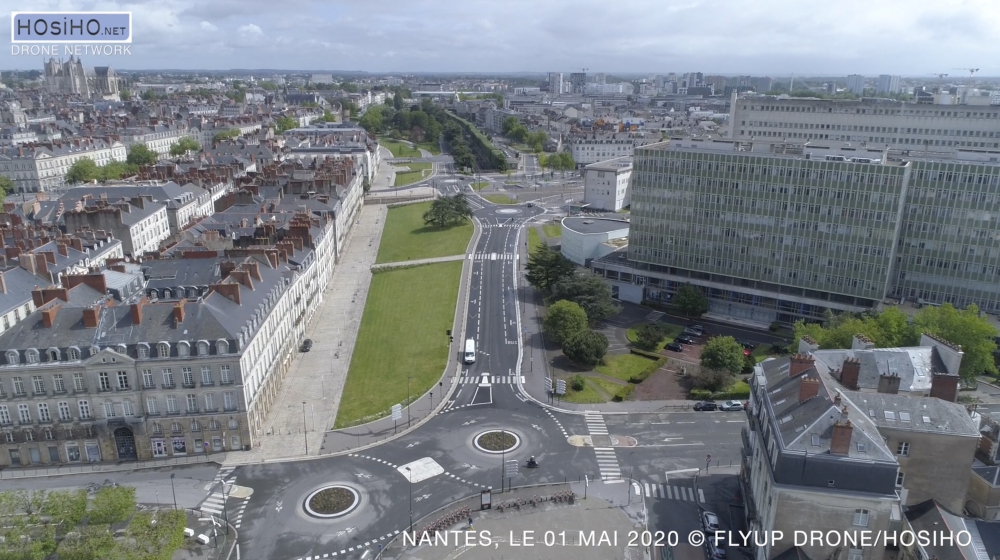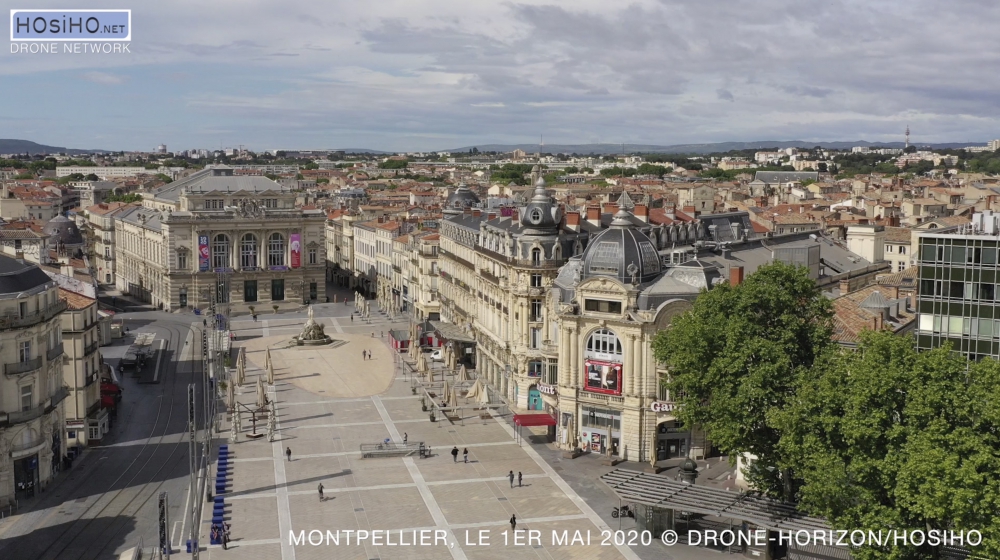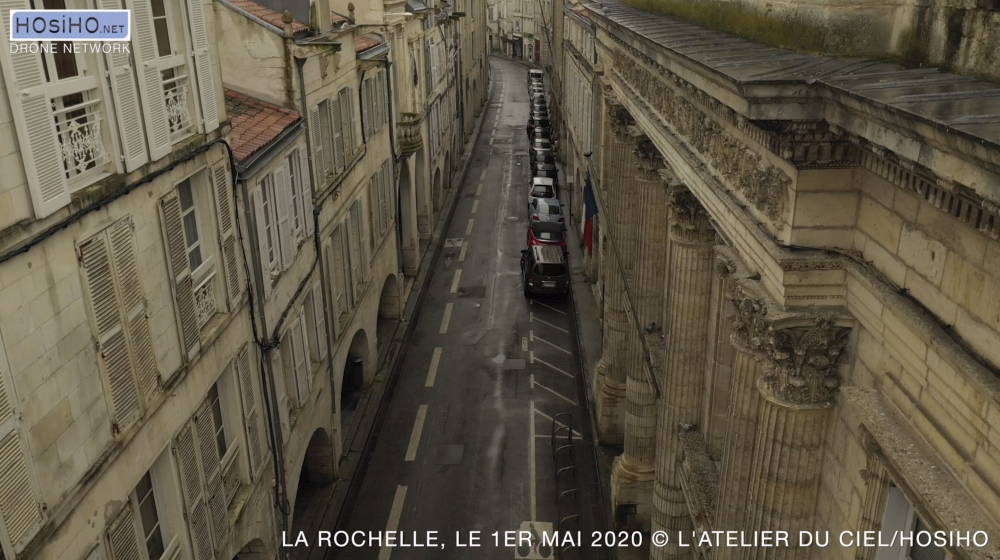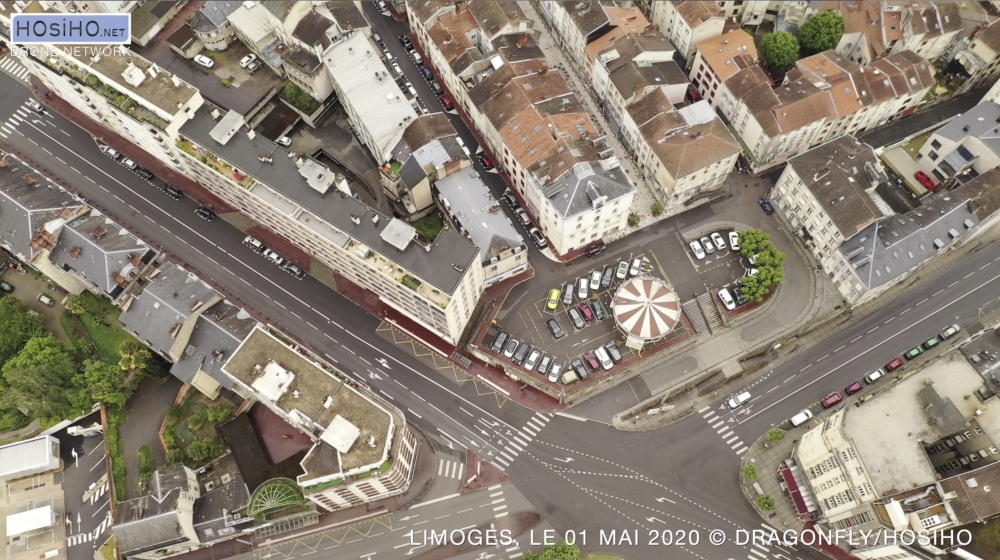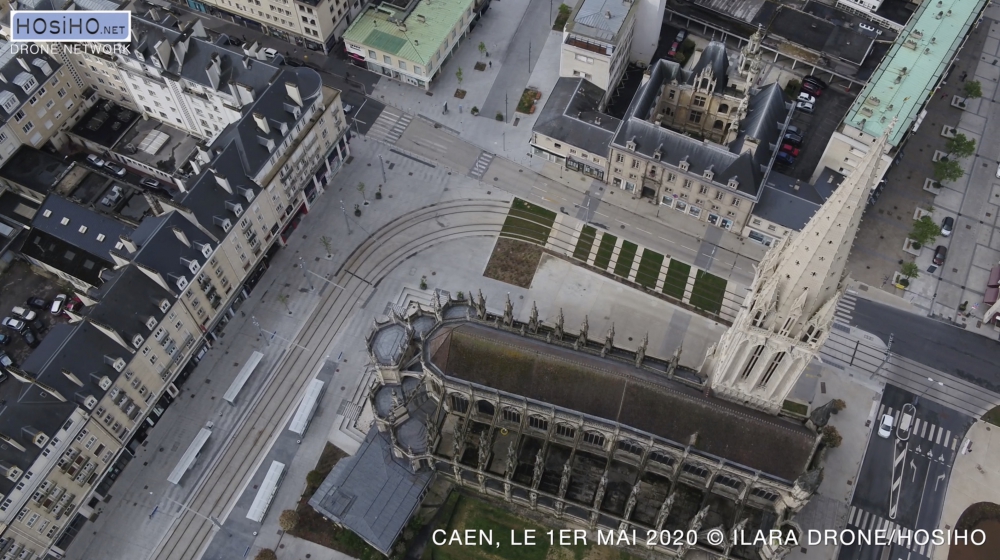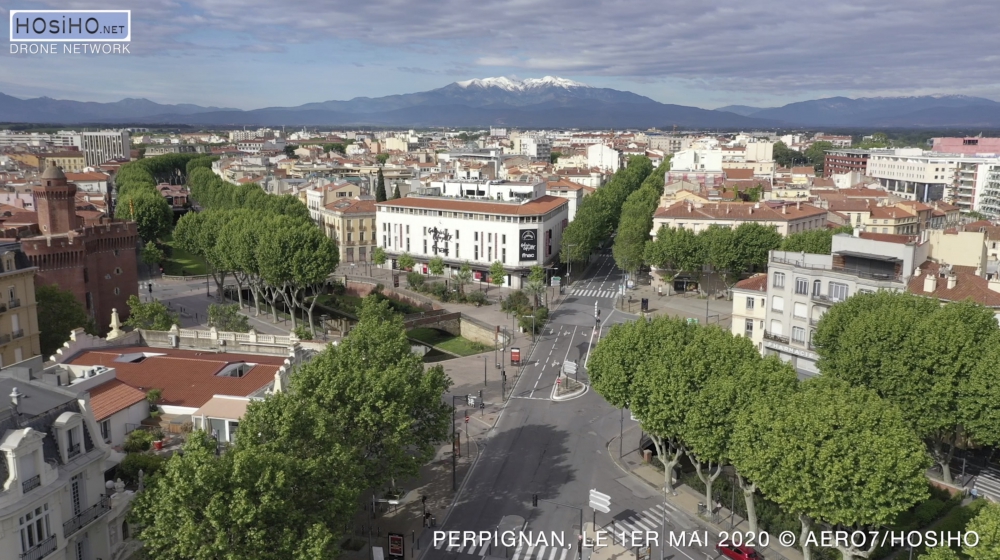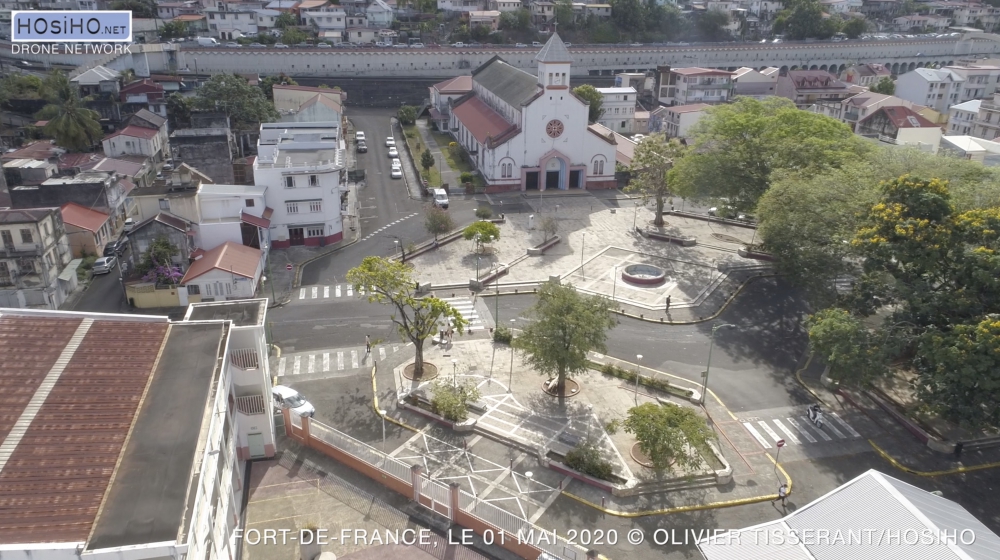 Fort-de-France, by
Madinina Flying Pixels
---
About HOsiHO Drone Network

Created in 2017, it is a service that brings together customers and reliable and talented UAV providers, all from our image bank. Thanks to our internet platform, HOsiHO Drone Network, it is easy to quickly find the nearest UAV operator to the shooting sites, by a simple click on the map of France. HOsiHO labeled, these operators are all recognized professionals of long standing.


About HOsiHO.com Aerial Stock Collection

Created in 2014 in Marseille, HOsiHO offers more than 33,000 videos and aerial photos on the World seen from above. Our e-commerce platform allows you to search, share and acquire rights for immediate downloading of high-resolution images (HD/4K+).
The HOsiHO agency has gathered, in 45 days, more than 4000 videos and aerial photos on the World confined due to the epidemic caused by the coronavirus.
Here is the non-exhaustive and constantly evolving list:
London, Paris, Los Angeles, Miami, Warsaw, Bucharest, Stockholm, Athens, Lille, Marseille, Bordeaux, Montpellier, Toulouse, Metz, Tourcoing, Roubaix, Valenciennes, Visby (Sweden), Dunkirk, Vannes, Brest, Aix-en-Provence, Rennes, Pointe-à-Pitre, Fort-de-France, La Rochelle, Ile de Ré, Limoges, Belfort, Morlaix, Reims, Fort Lauderdale (Florida), Colmar, Blois, Lisieux, Deauville, Amiens, Douai, Lorient, Nantes, Strasbourg, Saint-Malo, Romorantin, Caen, Rouen, Bayonne, Avignon, Lyon, Coutances, Narbonne, Quimper, Landerneau, Perpignan, Arles, Beauvais, Béthune, Mont-Saint-Michel, Lens, Calais, Boulogne-sur-Mer, Arras, Reunion Island, Saint-Emilion, Libourne, Carcassonne
---