D COM DRONE has been asked by the agglomeration community EST ENSEMBLE for the production of video and photo shooting of public facilities spread over the territories of 9 cities of Seine-Saint-Denis.
Intervening in an urbanized area has become over the years the specialty of D COM DRONE.
In addition, most of their work is done in the R275 regulated area, which covers a large part of the Paris region. They are used to undertaking their services by soliciting both prefectures and air navigation services. But this mission of 40 sites put their methods of work and organizational model to hard test.
'After spending the necessary time to visit the 40 filming sites, identified the various possible take-off points nearby, the trajectories, we met the officials of the 9 town halls to share our flight plans, obtain filming permissions on the public road and finally consider the schedules of realization. We signed 10 protocols with the air navigation services and finally filed 20 CERFA in the prefecture. We created an excel file and shared with our customer the different Google My Maps maps detailing each mission. It remained only to engage the flights as and while accepting the postponements due to bad weather conditions!
D COM DRONE has completed some 40 hours of flights to deliver 190 photos and 140 stock-shot shots that EST ENSEMBLE's communication service uses in its video productions.
'Since this adventure, we are ready to campaign for the safeguarding of parks, stadiums, playgrounds, gardens, car parks and other fitness trails ... so many places that allow us to understand drone shots in the city and in highly urbanized areas in complete safety and in strict compliance with the law.
Only 4 places proved to be totally incompatible with the regulations. So we used our Plan B using our 12m telescopic mast.'
D COM DRONE operates for the HOsiHO Drone Network in the Greater Paris, Seine-et-Marne and Champagne:
93 - Seine-Saint-Denis
89 - Yonne
77 - Seine-et-Marne
75-20 - Paris 20e
75-19 - Paris 19e
75-18 - Paris 18e
75-13 - Paris 13e
75-12 - Paris 12e
75-11 - Paris 11e
75-10 - Paris 10e
75-05 - Paris 5e
75-04 - Paris 4e
75-03 - Paris 3e
51 - Marne
10 - Aube
94 - Val-de-Marne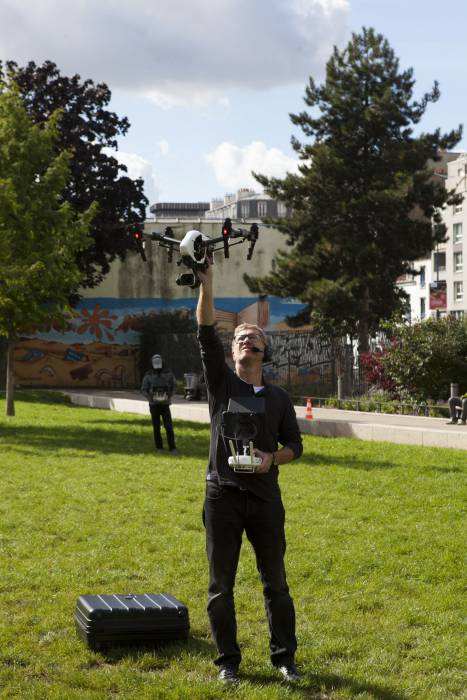 The use of a full duplex audio headset between driver and cameraman allows everyone to position themselves in the best place.
In view of the drone for one, in the shade for the other.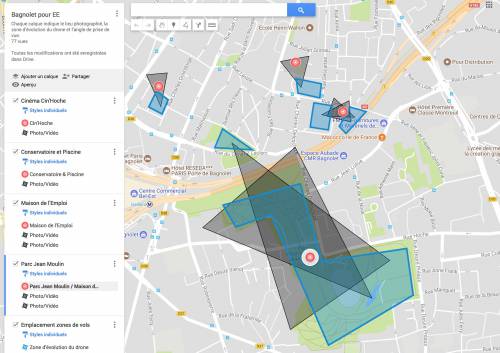 Shared Missions maps with client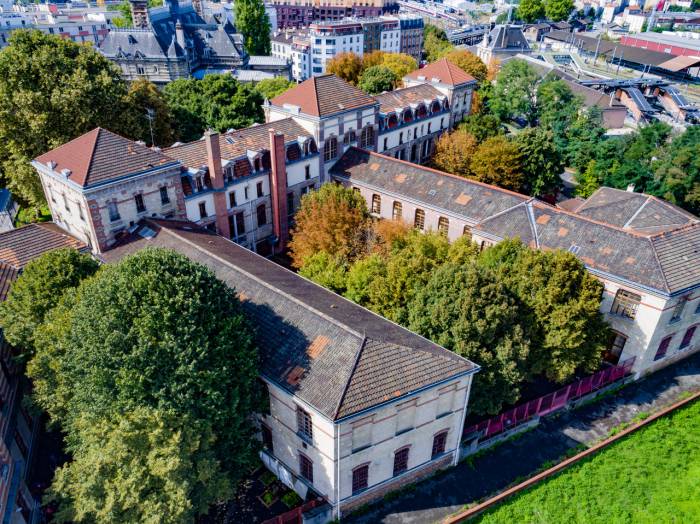 Aerial Photo of the du CONSERVATORY at PANTIN/France © DCOMDRONE
Aerial Photo of the peach walls - MONTREUIL/France © DCOMDRONE