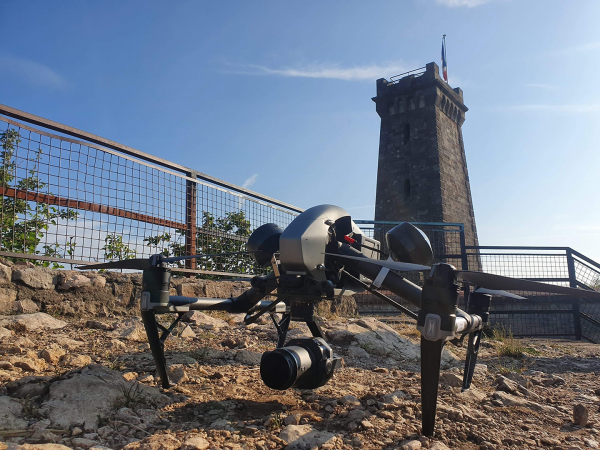 The year 2020 is now over, as you know it will have been more than special but we will not necessarily dwell on the subject

We just wanted to wish you (once again ), on behalf of the entire Skypic team, our best wishes for health and happiness for 2021.

May this New Year bring you all the success in your projects, both professional and personal.

We would also like to take this opportunity to thank all of you, readers, customers, partners, co-workers and colleagues, for your confidence throughout this past year.

Despite the health situation and its strong constraints, we had the opportunity to work on very nice projects, to have great opportunities but also to make really nice meetings, whether on the set or during our road trips to chase pictures.

For all this again => Thank you !


Opening of our blog

The idea of opening this blog and writing our first article had been in our heads for some time. Between drones shooting and audiovisual productions, we were looking for the right opportunity to do so. What better way to launch this narrative adventure than this move to the new year. The objective is to share with you news of the company, info on the world of drone, and everything that will go through our minds.
Happy Birthday Skypic !
In this first article we will also talk about our anniversary! Skypic has already entered its seventh year of existence ! How time flies!

So I will now speak in the first person as it is at the beginning of my story and retrace with you the evolution of the company since 2014, the year of its creation in Alsace.

2014 : The company first started as a self-managed company. The first "all-public" drones, which could be bought without necessarily having to build them, came out a year before and they had to prove themselves first. The UAV photography and video market was still in its infancy at that time.

However, I am proud to have been one of the first players in this field in the East of France. I was among the first three to start this activity of aerial photography by UAV in Alsace, more precisely in the Bas-Rhin region, near Strasbourg.

As an operator of unmanned aerial vehicles, registered under number ED200 with the Direction Générale de l'Aviation Civile, I was also one of the first 200 in France.

Namely, at present (January 2021), there are almost 13,000 operators registered with the DGAC.

2018 : After 4 years of existence in parallel with my activity as an employee, the status of "self-managed society" was beginning to reach its limits and the need for evolution was felt.

Thanks to the confidence of my historical customers, with whom it is still a great pleasure to work today, I decided to take my chances and devote myself full-time to Skypic, which then became a Société par Action Simplifiée (SAS). This change allowed me to expand the team and invest in a new range of state-of-the-art equipment.

In addition to our usual services, we now offer our services to TV Shows, movies, documentaries, etc.

However, we have the strong will to keep our feet on the ground and we continue to accompany clients such as Companies, Real Estate Agents, Communities, etc ...

Other audiovisual production companies also call upon our services when it comes to capturing images from the sky ☺.

2021 : After a complicated beginning of the year 2020 because of the health situation that everyone knows, the second half of the year was rather intense, rich in shootings of all kinds and encounters. This allowed us to hold the helm and strengthen our positions.

To stay within the quotations and as Buzz Lightyear would say, we are now heading towards infinity and beyond ☺.

While waiting for the continuation of our adventures, be well.