As we recently wrote on our blog, 2022 was an exceptional year for the Marseille-based drone operator, Drone-Pictures.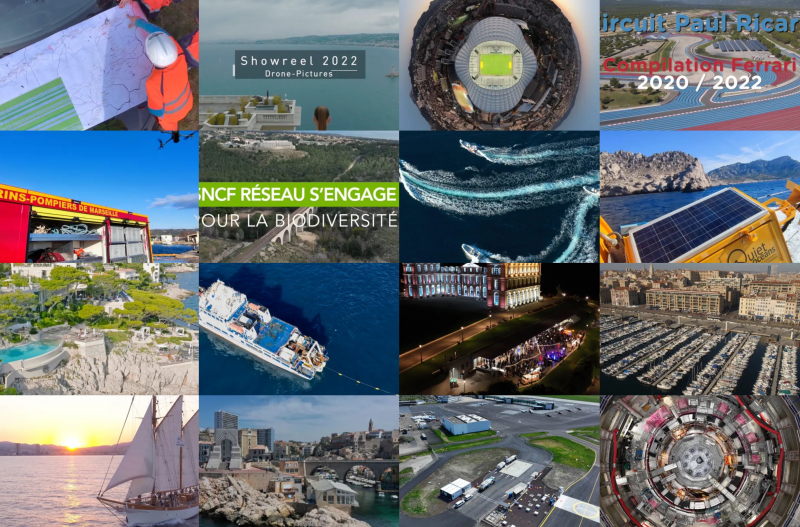 It was above all the confirmation that our clients are not only loyal, but that their image needs now go far beyond the mere provision of drone shots. They certainly call on us for our mastery of the creative tool that is the drone, but most of them want us to give them a "finished product", i.e. an edited film, with images on the ground, a few interviews with subtitles in English and French, music to support the whole, sometimes an animation, and always some logos.


So it's a whole different ballgame to be able to design, produce and deliver such little filmed stories. Not only did we have to equip ourselves with ground-based shooting equipment (a good half dozen ground-based cameras), but we also had to think downstream, perfect our video editing skills (and change computers to support a 4, 5 or 6K workflow)! Fortunately, the founder of Drone-Pictures already had a long career in documentary and institutional film making.



Showreel 2022 - Drone-Pictures



The days are long gone when Drone-Pictures - the first drone pilot company to be based in Marseille in 2011 - was only delivering outstanding images taken with its numerous drones (seven in 2023). We are now as much in demand for the production of complete reports with a subtle mix of aerial and ground shots, as for drone services for documentaries, feature films, advertising or corporate work.



Drone and ground video report with interviews on board the ship, produced for CMA-CGM and TotalEnergies at Eurofos harbor, in January 2022, the Grand Port Maritime de Marseille in Fos-sur-Mer (13)
- Produced by Drone-Pictures Marseille








Teaser Chateau Charleval Provence Art Gallery, by Drone-Pictures







Film for SNCF-Réseau on the development of ponds west of Etang-de-Berre in the Bouches-du-Rhône, along the Côte Bleue, between Martigues and Fos-sur-Mer.
Drone & ground report during the TOP-TRANSPORT exhibition in Marseille in autumn 2022
- Produced by Drone-Pictures Marseille
Video film for ITER Organization produced in April 2022 : it is about the follow-up of the construction site, filmed by by drone
- Produced by Drone-Pictures Marseille
Film for Quiet-Oceans, shot in August 2022 during the installation of the SMARTPAM buoy off the coast of Fos-sur-mer
- Produced by Drone-Pictures Marseille

Video clip of presentation at sea, of the whole fleet of EDEN-BOAT boats in La Ciotat (13)
- Produced by Drone-Pictures Marseille




To complete this overview of 2022, please visit our Vimeo channel