Images and informations published on HOsiHO.com
New blog post : What images sold in October 2019 through HOsiHO.com ?
For instance this drone footage sold for an Internet advertisement of Marcel Bio brand
or
---
Don't miss this blog post : HOsiHO's weekly Editors Picks
Since last week, the agency HOsiHO.com highlights, every week, the most
outstanding and creative aerial images or timelapses from its collection, as well as
the artists who are at the origin, often with passion, always with immense talent !
And if you like these little accelerated films, take the opportunity to also explore
our gallery dedicated to Timelapses, Hyperlapses and Dronelapses.
---
An avalanche of new galleries!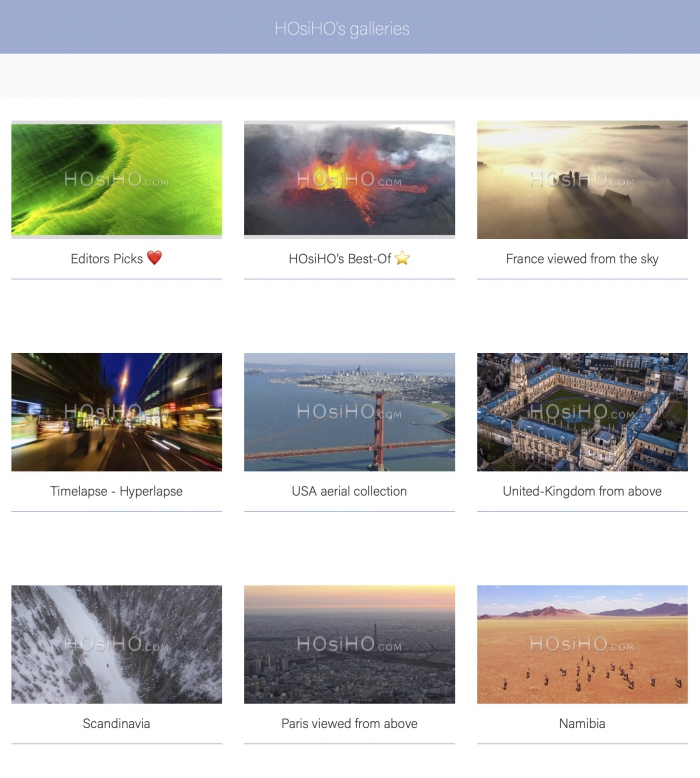 The new platform of the agency launched in April 2019 continues to grow.
This time, HOsiHO publishers began to create thematic galleries, first on geographic
destinations where the fund has several hundred clips and photos per drone. Then will come
galleries on more iconographic themes such as Winter, Environment, Transport, Industry, Urbanism.
In the meantime, you can already admire the 'jewels' found by the agency team through the
Editors Picks, Best-Of, France, Usa, Scandinavia, Greece, Namibia galleries.
---
? TALENTED WORLDWIDE AERIAL CINEMATOGRAPHERS

Apply as a contributor and start to submit to HOsiHO's aerial collections
---
HOsiHO is more than an online stock library !
In case we don't have the perfect clip yet online, just ask us to do the search
for you. We have direct access to the most talented aerial cinematographers,
so we often find exactly what you are looking for.
Check-out our unique services :